I am not a huge fan of that old habit of just sailing up to a place, sticking a flag in it and calling it whatever you liked – I mean lets face it Aotearoa is a far better name for New Zealand!  But when I read that there was an island and a language named after a Cornishman, well, of course I had to find out more!
Our world no longer seems full of intrepid explorers but back in the 18th century they were all the rage.  Samuel Wallis, born in Lanteglos by Camelford in 1728, was to become one.
His parents John Wallis and Sarah Barrett had married in the quiet moorland town of St Tudy not far from Bodmin in 1720. The couple had 3 sons and all were born at the family home of Fentonwoon (which means the spring on the downs in Cornish).  A small estate, Fentonwoon had been owned by the family since the time of Elizabeth I.
As a minor landowner and therefore a gentleman John Wallis was able to provide the boys with a good education.  Samuel like many young men of the era joined the Navy in 1744, no doubt looking for adventure.  He fought in the warswith France, travelled to North America and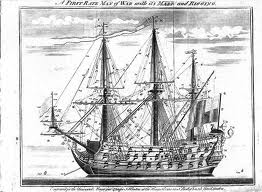 quickly rose through the ranks getting his first command in 1756.  Ten years later, at the age of 38, Samuel was promoted again to command of the HMS Dolphin, a large 24 gun frigate.  He was tasked by the Royal Navy with finding the fabled great southern continent and also with circumnavigating the globe.  As a consequence he was to accidently discover Tahiti, provide Captain James Cook with vital information for his voyage, almost lose his ship and of course find the island that was to become Wallis Island.
HMS Dolphin set sail from Plymouth Sound with its companion ship, HMS Swallow, on the 22nd August 1766.  The little fleet passing close to Lizard point before heading out into the open ocean.  It wasn't until 3 long months later that Wallis and his crew reached the Brazilian coast and eventually passing into the Pacific ocean in April 1767.  Sometime during the journey through the Straits of Magellan Wallis' ship lost contact with the Swallow but short of supplies they continued on without them.
HMS Dolphin reached Tahiti the following June and remained there for a month.  Wallis did his best to be on good terms with the natives after a less than warm reception.  But it seems his crew took international relations a step too far.  If the accounts are true it is for me a pretty amusing interlude.  We're told that the crew, who had been a long time at sea, became overly friendly with the local ladies.  They had discovered that iron was highly prized by the islanders and that the women would have sex with them if they were able to pay them with something metal.  Unfortunately the crew pulled so many nails out of the body of the ship that she became structurally unstable.  Wallis wisely decided that it was time to leave.
On the morning of 16th August 1767 the Dolphin again sighted land.  Wallis wrote in his log that the island was "very pleasant in appearance, the whole seemed to be surrounded by reefs . . .
As we sailed along the shore, which was covered in cocoa-nut trees, we saw a few huts and smoke. [I] sent out boats to sound and examine the coast".
However the Dolphin only anchored there for a day, again it turned out that the natives weren't pleased to see them and Wallis had to beat a hasty retreat.  He records coyly that the crew named the island after him and idea which he admits he finds flattering.
The name however stuck, so much so that the island, which now has around 10,000 inhabitants, remained Wallis Island even under French control and the Polynesian language that the islanders speak became known as Wallisian!
So an adventurous Cornish man has a Polynesian island and a language named after him.
HMS Dolphin and Captain Wallis completed their circumnavigation of the globe with very little fanfare, arriving back in England in 1768.  They had not found the fabled southern continent however they did enable James Cook to sail off into the sunset a few months later with a far greater knowledge of what lay out there in those vast, uncharted oceans.
For more interesting, irreverent, amusing and unusual Cornish people take a look at my page: Cornish Folk
I provide all the content on this blog completely FREE, there's no subscription fee. If however you enjoy my work and would like to contribute something towards helping me keep researching Cornwall's amazing history and then sharing it with you then you can DONATE BELOW. Thank you!